About
The Canadian Feed Research Centre (CFRC) is funded by the Canada Foundation for Innovation, the Government of Saskatchewan, the University of Saskatchewan (USask), Western Economic Diversification, with substantial in-kind participation from industry and private donations.
Our Mission
Provide research, development and commercialization of new and better high-value animal feeds from low-value crops, co-products from bioprocessing and biofuels industries, and novel feed additives.

Cater to clientele from academia, government, commodity groups and private industry in order to provide value to the Saskatchewan and Canadian agricultural industries.
Funding
The CFRC has funding from the National Research Council of Canada Industrial Research Assistance Program (NRC IRAP) to support feed and bioprocessing innovation services for Canadian small and medium-sized enterprises (SMEs).
A maximum of $10,000 per year is available for each SME for services including:
feed ingredient evaluation and new feed product development
animal performance and challenge trials
feed registration advisement, feed processing improvement and biomass utilization
feed additive stability and homogeneity testing during feed processing
toll manufacturing
in-house analytical lab which provides wet chemical testing
Please see the
document for more info
.
Facilities and Equipment

Feed Mill
Analytical Lab
USask Animal Facilities
Services

Advisory Service
Animal feed development and evaluation

Feed processing

Product development

Market feasibility analysis

CFIA feed registration

FDA/USDA/AAFCO regulatory advisement

Research network coordination

Project management

Research proposal development
Feed Processing Service (Commercial/Research Level)
Manufactory of diets to customer specifications in animal feeding and nutrition research studies (typical batch quantities produced may range from 50 kg to 20 tonnes and can be provided in bulk or in bags)
Examination of equipment, processing methods, processing conditions and feed ingredients on nutritional value and processing efficiency for both academic and industrial clients
Toll processing and facility rental for proprietary research
Scaling up of research findings to the industrial scale for effective and efficient transfer of technology to industry
Training and workshops
Shipping address for feed processing services
Canadian Feed Research Centre - Feed Mill
Attention: Scott Bishoff 
10029 Marquis Ave
North Battleford, SK S9A 3L8
306-490-8484
Analytical Lab Analysis (Standard/Customized)
CFRC employs a full-time laboratory technician and offers a variety of nutritional and anti-nutritional analyses on a fee for service basis. Please complete the FII Sample Submission Form and have it accompany your feed sample when shipping.
Shipping address for analytical lab analysis
Canadian Feed Research Centre - Analytical Lab
Attention: Chuyuan Zhang
University of Saskatchewan
Agriculture Building, Shipping and Receiving
Room 1E26.1
51 Campus Drive
Saskatoon, SK S7N 5A8
306-966-6807
Research and Education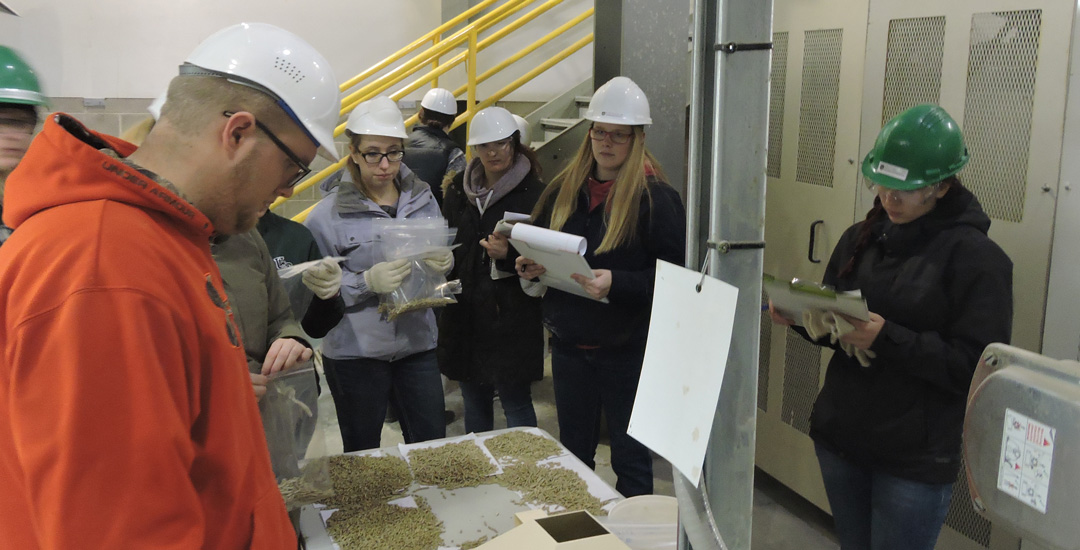 The CFRC provides unique feed processing research capabilities covering the full scale spectrum from the research laboratory to pilot scale to industrial scale.
The pilot scale feed processing line has a maximum capacity of two tonnes feed per hour and includes the following components: roller mill, hammer mill, 50 kg mixer, flaker with a steam chamber, pellet mill including a feeder and triple pass conditioner, twin-screw extruder including a feeder and a conditioner, counterflow cooler, crumbler, triple deck screener, dryer, and lab and industrial scale vacuum coaters.  The pilot line also includes bulk ingredient receiving, storage and load-out, and will be completely automated with capability for extensive data and sample collection.
The industrial line has a fully automated 20 tonne per hour multi-species feed capacity and includes two 250 HP hammer mills, a three tonne Ribbon mixer and a three tonne surge hopper, a 300 HP pellet mill with conditioner and screener, liquid coating application system, bulk receiving, storage and load-out systems and complete process control.
Currently, Feed Processing Concepts and Realities (ANSC 840.3) and Feed Processing Technology (ANSC 316.3)  are offered as a graduate/undergraduate courses in the Department of Animal and Poultry Science.
Benefits
Access to nutritional expertise and research facilities within USask

A broad array of analytical services provided by in-house lab services

Globally unique feed mill allows specific feed manufacturing processes using three scales of operations
Contacts
Chuyuan Zhang 
Interim Industry Liaison
Canadian Feed Research Centre
Department of Animal and Poultry Science
University of Saskatchewan
chuyuan.zhang@usask.ca 
306-966-6807
Rex Newkirk, Ph.D., P.Ag.
Associate Professor
Ministry of Agriculture Endowed Research Chair Feed Processing Technology
Department of Animal and Poultry Science
University of Saskatchewan
rex.newkirk@usask.ca
306-966-4279