About
The CFRC is a Canadian Foundation for Innovation funded research facility to research, develop and commercialize new and better high-value animal feeds from low-value crops and co-products from bioprocessing and biofuels industries. This world-class facility offers a broad range of research scale capability, from laboratory to pilot plant to larger industrial-scale research -a major advantage in attracting commercialization activities and engaging industry.
Construction of the facility started in September 2012 and opened October 24, 2014.   
The Canadian Feed Research Centre is funded by the Canada Foundation for Innovation, the Government of Saskatchewan, the University of Saskatchewan, Western Economic Diversification, with substantial in-kind participation from industry and private donations.


The CFRC supports research through:
Preparation of feed and diets to high specification for use in animal feeding and nutrition research studies. Typical batch quantities produced may range from 50 kg to 20 tonnes and can be provided in bulk or in bags.
Experimentation to study the effects of different equipment, processing techniques and conditions, and different feed ingredients on nutritional value and cost of animal feeds.
Research toll processing and facility rental to industry clients for proprietary research.
Scaling up of research findings from the pilot scale line to the industrial scale line for effective and efficient transfer of technology to industry.
Training and workshops.

The CFRC is a national feeds research centre. Its national mandate means that researchers from across Canada and internationally are able to access this facility. Benefits of a national centre include:
Livestock sector: improved feeds for livestock health and productivity.
Crop sector: value-added to marginal crops and by-products not suitable for human consumption, and alternative markets for processed crops.
Biofuel sector: optinization of by-products from the biofuel industry, ethanol and biodiesel, for use in animal feeding.
Crops and feed processing sectors: strong emphasis on export market development. High-value feed products destined for high-value markets in Canada and around the world.
Human and animal health: research into feed-based vaccines, nutraceuticals and probiotics, and in processing methods to control the presence of pathogens in feeds.

Equipment
The CFRC has stand alone equipment and two scales of operating lines.  The Pilot Scale Line (PSL) is 2 tonne/hr and the Industrial Scale Line (ISL) operates at ~ 20 tonne/hr.  The CFRC is globally unique in allowing for demonstration of manufacturing specifications at two scales of operations.

Research, Education and Training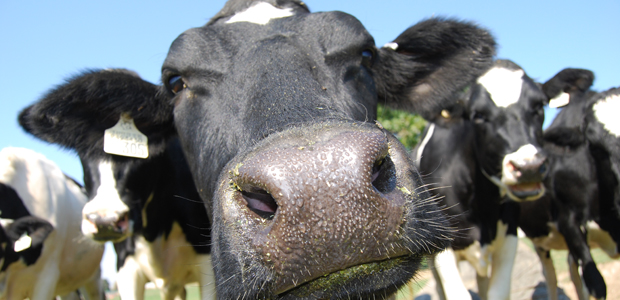 The CFRC provides unique feed processing research capabilities covering the full scale spectrum from the research laboratory to pilot scale to industrial scale.
The pilot scale feed processing line has a maximum capacity of 2 tonnes feed per hour and includes the following components: roller mill, hammer mill, 50 kg mixer, flaker with a steam chamber, pellet mill including a feeder and triple pass conditioner, twin-screw extruder including a feeder and a conditioner, counterflow cooler, crumbler, triple deck screener, dryer, and lab and industrial scale vacuum coaters.  The pilot line also includes bulk ingredient receiving and storage and load-out, and will be completely automated with capability for extensive data and sample collection.
The industrial line has a fully automated 20 tonne per hour multi-species feed capacity and includes two 250 HP hammer mills, a 3-tonne Ribbon mixer and a 3-tonne surge hopper, a 300 HP pellet mill with conditioner and screener, liquid coating application system, bulk receiving, storage and load-out systems and complete process control.
Access
The CFRC is managed by the Department of Animal and Poultry Science in the College of Agriculture and Bioresources. A Research Management Committee provides the general oversight and schedules the use of the facility for research.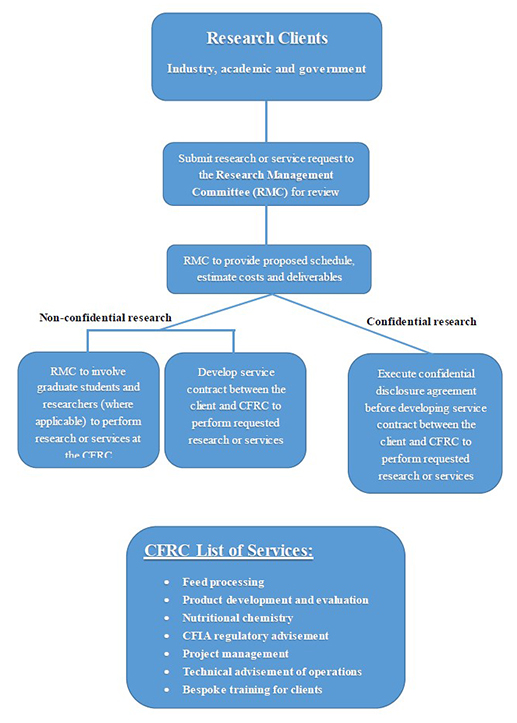 Academic and Institutional
Academic and Institutional researchers who wish to access the CFRC research services should contact:
Dr. Rex Newkirk
Associate Professor
Ministry of Agriculture Endowed Research Chair Feed Processing Technology
Department of Animal and Poultry Science
University of Saskatchewan
rex.newkirk@usask.ca
306-966-4279
Industrial Research Clients
Industrial clients can access the CFRC research and technology transfer services through the Feeds Innovation Institute and should contact:
Jessica Wang
Canadian Feed Research Centre Industry Liaison
Department of Animal and Poultry Science
University of Saskatchewan
jiw370@usask.ca 
306-966-6807
Governance
The CFRC is a research facility. The Industrial Scale Line has more capacity than required for research therefore a portion of its time has been licensed to Cargill Animal Nutrition for commercial use. Although this is a somewhat unique situation, it is not without precedence for a Canadian research facility to license or rent a portion of their infrastructure. To support this innovative arrangement there is an overall management committee and a daily operational committee which ensure that arrangements and operational issues are dealt with in a timely and appropriate manner. The licensing arrangement with Cargill Animal Nutrition does not extend into any of the research activities of the CFRC.
CFRC Committee Structures and Participants
International Research Committee - gives strategic input into the CFRC research programs. The Committee to be comprised of international representatives of research feed mills and feed manufacturing programs. Committee to be established in 2013.
Research Management Committee - oversees the direction of research at the CFRC, receives requests for use of the CFRC, determines suitability of the facility for described research and handles scheduling. Comprised of staff from the University of Saskatchewan, Department of Animal and Poultry Science and the Feeds Innovation Institute.
Committees overseeing the licensed use of the Industrial Scale Line
Operations Committee - ensures the smooth day-to-day management of operations with respect to the use of the ISL by the licensee; comprised of the operational manager from Cargill Animal Nutrition and the CFRC Manager from the University of Saskatchewan.
Facility Management Committee - meets annually to oversee the role of the licensed use of the ISL within the strategic direction and management of the CFRC; comprised of two senior-level individuals from the University of Saskatchewan and one from Cargill Animal Nutrition.