About
The Rayner Dairy Research and Teaching Facility, opened in 2013, was named after John Rayner who contributed greatly to the improvement of dairy genetics and dairy farm management. The facility supports technology transfer, research and teaching.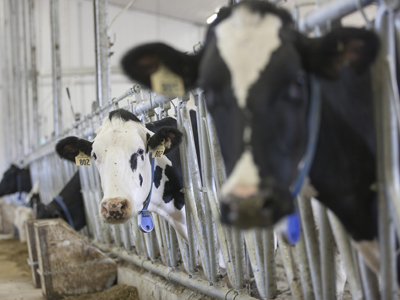 The total barn stall capacity is 124 milking cows. The ground floor of the facility covers 50,000 square feet. The Rayner barn was designed to provide for the environmental need of dairy cattle. 
Space to lie in comfort for at least 12 hours per day
Ready access to feed
Ready access to water
Efficient and safe milking
Well-designed facilities for cow comfort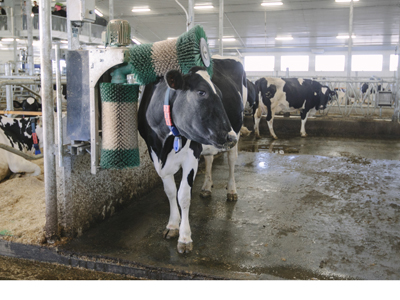 Milking
The facility included two milking systems: a traditional parlour and a milking robot.
Milking Parlour
The parlour is a double six cow herringbone design. Four pens with 12 cows in each are milked in parlour.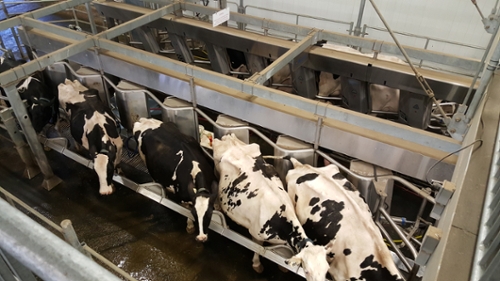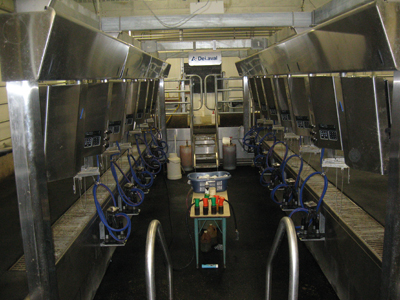 Milking Robot
There are 52 stalls where cows can be milked in the DeLaval Robot Voluntary Milking System (VMS).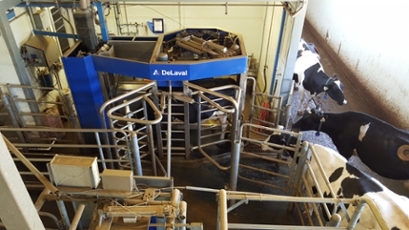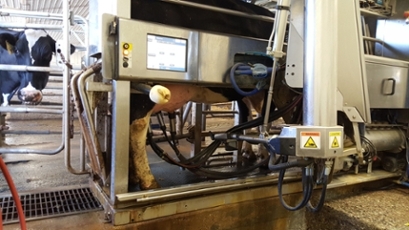 Barn Features
Free Stall Area
The free stall area houses up to 108 milking cows plus close-up cows and cows at calving. This area is 35,000 square feet (3,230 sq. m).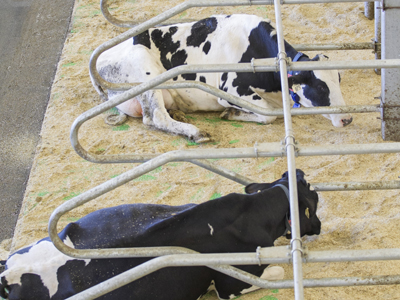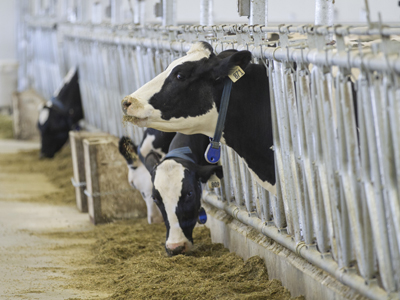 Feeders
The blue Insentec feeders record individual feed intake, feed time and frequency. Other feed bunks have locking headgates. A herd management computer system collects production data for each cow at each milking, and monitors reproduction and health.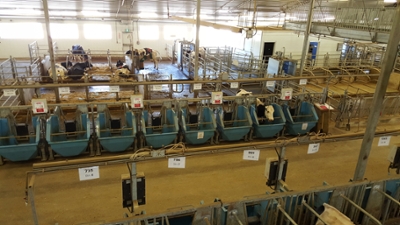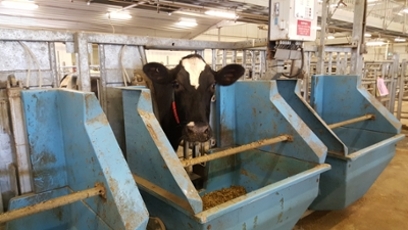 Metabolic Wing
The tie stall metabolic wing consists of:
Sixteen tie stalls for feeding trials (cows milked in parlour)
Eight metabolic research stalls (cows milked in place)
Storage and basic sample handling and laboratory space is next to tie stalls and metabolic unit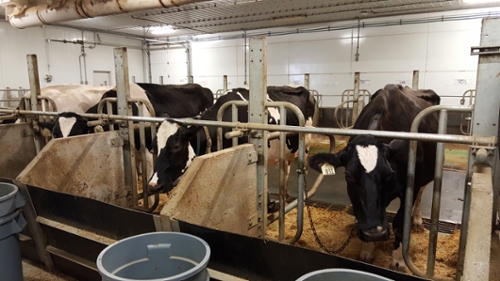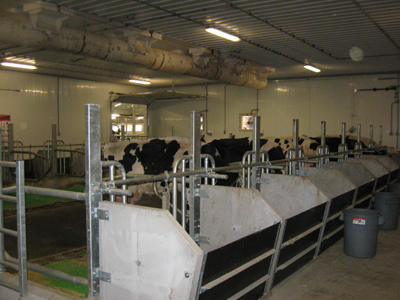 Other features
Close-up cow area with stalls
Calving ward, open bedded area
Feed preparation and storage
Palpation rail and weigh scale, near milking parlour
Eight special care pens, flexible use
Viewing Gallery and Cow-Walk
Located in the Rayner Dairy Research and Teaching Facility, the Feeding the World Interpretive Center educates the public about agriculture using a dairy barn as a model.
The interpretive centre use dairy production as a way for visitors to explore the agricultural story of Saskatchewan and its role in global food production. Featuring an overhead walkway, the barn provides a bird's-eye view of the herd, milking parlour and computer-based milk robot.
The interpretive centre is open to the public for self-guided tours 12:30 to 4:30 pm, with the exception of public holidays.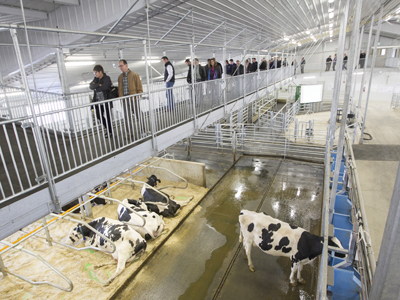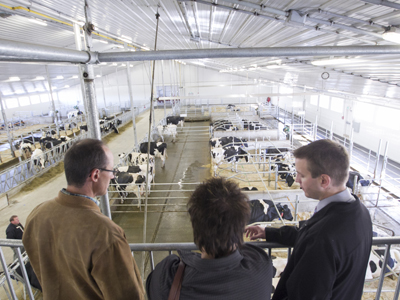 Research
Research performed in the new facility includes: dairy nutrition and feed development, animal fertility and health, animal management, technology development, application of information technologies, and developemtn of green technologies for improved sustainability.
The advanced feeds evaluation and research capability at the Rayner facility will make a critical contribution to the large agricultural and feeds innovation research cluster led by the University of Saskatchewan.
Expected benefits for the Canadian dairy sector include: reduced production costs, improved animal care and environmental sustainability. Innovative, high-value dairy feeds and new feeding programs promise new opportunities for producers and feed manufacturers for crops such as canola, mustard, flax, pulses, grains, and forages. Improved nutrition benefits of milk through increased omega-3 fatty acid levels.
Other possible opportunities include new nutraceutical feeds and milk products, specialty products (biologics) derived from milk and new sustainable technologies.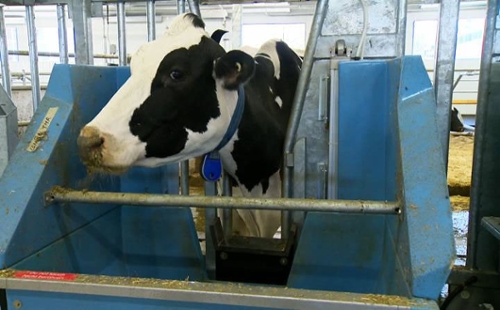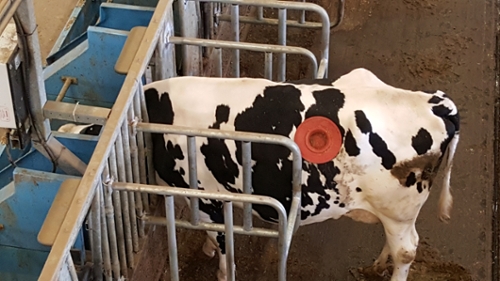 Animal and Poultry Science Faculty
Dr. David Christensen: Professor Emeritus
Dr. Bernard Laarveld: Nutrition, Physiology, Feed Science
Dr. Tim Mutsvangwa: Ruminant nutrition and metabolism
Dr. Greg Penner: Nutritional physiology, Nutritional strategies to enhance the health and productivity of cattle
Dr. Peiqiang Yu: Nutrition biochemistry and modeling, Feed science, Ruminant nutrition
Donor Recognition
This project was realized through the generous support of the following contributors:
$1,000,000 +
Agriculture and Agri-Food Canada

SaskMilk

Saskatchewan Ministry of Agriculture

Western Economic Diversification Canada
$50,001 - $250,000
Moody's Equipment

National Bank

New Holland Agriculture

SaskCanola
$25,001 - $50,000
Agrifoods International Cooperative

BMO Financial Group

DeLaval Inc.

SaskFlax
Up to $25,000
Farm Credit Canada

RBC Royal Bank

Seed Hawk