Saskatchewan Agricultural Graduates' Association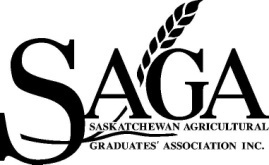 The Saskatchewan Agricultural Graduates' Association (SAGA) is an organization that supports graduates of the college and host of an annual reunion. 
All new graduates of the college automatically receive complimentary membership for one year.  
Events
Thank you to the attendees, Class Reunion Chairs, Tour Guides and other volunteers who made the 83rd weekend a success. It was a great weekend with almost 400 people in attendance.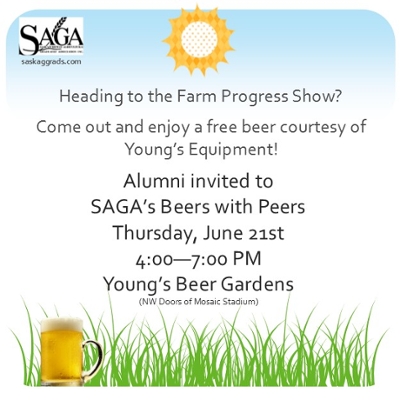 Good company. Good venue. Good beer.
Friday, January 11, 2019 from 4 - 7 PM
College of Agriculture and Bioresources Friday night social 4:00 – 7:00 PMAgriculture Building, Student Lounge FREE!
Come and join your fellow grads for some reminiscing and networking. For those who have a dinner or other event that night, come early before you go and see grads from other years. The atmosphere will be relaxed and informal. The stories told will all be true.
Enjoy displays of memorabilia, class composite maps or the many tours offered throughout the evening including:
Art Tour in Agriculture Building
Phytotron Tour
Food Pilot Plant Tour
Agriculture building history and old stomping grounds (John Mitchell, Kirk Hall and Archaeology Building tours)
Refreshments and food will be provided, compliments of Dean Buhr.
Parking is available, for a fee, under the Agriculture Building. Turn South off Campus Drive onto Science Place and go around past the Agriculture Canada Building and turn in to the South-west corner of the building,  just before you get to Kirk Hall.
Look forward to seeing many of you there. You can contact Tanya Napper at phone: 306-966-4063 or email at (tanya.napper@usask.ca) if you have any questions.
Saturday, January 12, 2019 starting at 4:30 PM
SAGA Reunion Banquet 
TCU Place, Saskatoon (formerly the Centennial Auditorium)
Tickets will be available for purchase in fall 2019 at saskaggrads.com
Class composites
The college is proud to display composites from 1939 of all degree, diploma and certificate graduates.
Class Giving
Typically organized by class reunion chairs, class gifts can be established to honour your graduating year and support a specific area of interest to your classmates. Previously supported initiaves have included: the AgBio Discovery Program, student bursaries, scholarships and infrastructure. 
To find out if your graduating class has an award or, if you would like to discuss other options, please contact our Development Office.  
(306) 966-8893
Volunteer
Interested in volunteering at a college or university alumni event? Let us know!
306-966-4063