Promoting fire as a resource management tool may feel counterintuitive, especially when wildfires are ripping through Canadian forests at unprecedented rates. But properly used fire is an important instrument for conservation, traditional practice, and public safety. 
"We're looking to manage native habitats and natural ecosystems as closely as we can to the way they evolved in the previous 10,000 years. One of the key drivers of that evolution is fire," said Matthew Braun, manager of conservation science and planning at the Nature Conservancy of Canada, and alumnus of the College of Agriculture and Bioresources. "We can carefully mimic the way fire happened in the past, much like we use livestock grazing to mimic the herds of bison that used to graze on the prairies."
Defined as a controlled burn conducted within very strict parameters, including weather conditions and ground moisture, a prescribed fire is often very slow and involves a crew of people working together to keep things contained within a designated area. A wildfire is almost the exact opposite – they are uncontrolled, fast-moving, and uncontained. 
"You can use fire to achieve specific management goals," said Renny Grilz, resource management officer at the Meewasin Valley Authority, and graduate of the college. "Fire helps with renewal processes, can help manage invasive species, can stimulate regrowth, and can help with nutrient recycling."
The list of ecological benefits of fire is long; it can even help stop the spread of wildfire by corralling an uncontrolled fire into a controlled state. But it can also be immensely destructive if not managed properly. Something the Canadian Prairies Prescribed Fire Exchange (CPPFE) is hopeful it can help its member groups avoid through training and knowledge translation. 
"We really want to raise awareness to the fact that fire can be seen as a tool. We are working to contribute to both the science and the training," said Dr. Eric Lamb (PhD), associate professor in the Department of Plant Sciences. "We're working to professionalize our own practices and develop the appropriate training protocols to help people overcome barriers to using prescribed fires in their own resource management approaches."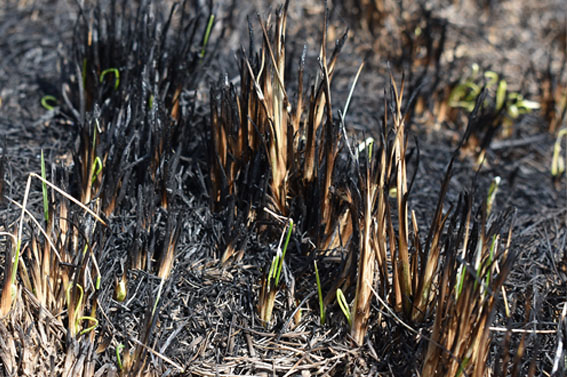 Sharing knowledge to harness the art of prescribed fire
Indigenous people have been using fire to manage their lands and sharing their knowledge for generations, meaning that various associations and organizations can use the same techniques to revitalize grasslands across the province. But only recently have these groups come together to form the Canadian Prairies Prescribed Fire Exchange (CPPFE), to develop and implement essential training standards, raise awareness, and support each other with planning and execution. 
"There's been people doing this kind of work in Saskatchewan for years. What this allows us to do is no longer work off the sides of our desks and improve efficiency," said Braun. "We now have actual dedicated resources and a dedicated full-time position to helping us all work together and actually get more people trained, get more people comfortable with prescribed fire, and get more prescribed fire on the landscape safely."
The CPPFE is the result of several provincial and national member groups, such as the University of Saskatchewan (USask), Meewasin Valley Authority, Parks Canada, Association of Manitoba Community Pastures, Saskatchewan Parks Service, and the Canadian Wildlife Service, combining efforts and knowledge to achieve shared goals. Together, they have developed training standards for anyone interested in prescribed fires. The group has secured a five-year grant from the Weston Family Foundation through The Weston Family Prairie Grasslands Initiative to create the CPPFE and engage land managers and owners in the safe use of fire as a prairie grassland management tool. 
"We're really trying to find as many different ways as we can to connect with the people who could be impacted by prescribed fire or could use it as a tool in the future," said Braun. "You don't need a master's degree in range management to do a prescribed fire. But you do need knowledge of equipment, how fire works, an understanding of fuel and changes in weather. That's the knowledge we want to help people learn."
As a collective, the CPPFE will support its member groups in several ways, including the development of an equipment cache to ensure that everyone has easy access to the right tools needed for a successful burn. 
"When I first started doing prescribed fires in the early 90s, you showed up in a flannel shirt and jeans, and you went to work," said Grilz. "And now you need protective equipment, fire-resistant coveralls, radios, water packs, and all sorts of equipment. So, this helps smaller groups who want to go out and try fire from having to invest heavily on that aspect of it." 
The CPPFE is starting to work with fire departments, offering training on prescribed fires in urban contexts, helping firefighters understand how to use fire to protect against possible future wildfires and the damage and loss they create.
"It's an opportunity for these groups to understand how to prevent fire with fire and also to fight fire with fire," said Grilz.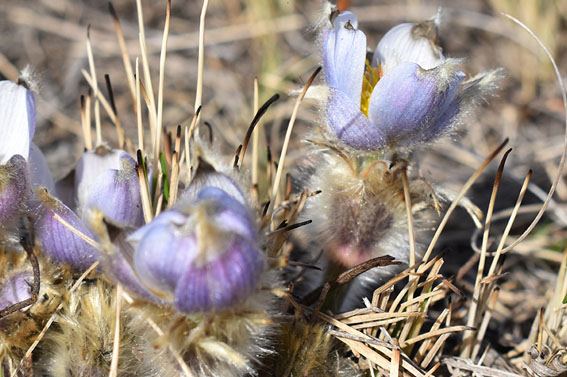 Understanding the science of burning
As both Braun and Grilz point out, fire allows their organizations to control invasive species, encourage seed germination, and even limit the spread of wildfire. But understanding how, when, and where to use fire appropriately comes from the knowledge gained through years of research. Lamb has been looking into the ecological science behind fire for more than a decade. Most recently, he has focused his curiosity on an aspen stand in USask's Kernen Prairie, which is one of the largest remaining patches of fescue prairie in the province.
"We did a spring burn where we burned about two hectares of land, which included an aspen stand," said Lamb. "This will allow us to research how fire impacts the drought-stressed aspen and how the insect and plant life rejuvenate."
Lamb has spent several years conducting research projects using prescribed fire on various grassland environments across Saskatchewan.
"We get to ask, and answer, the subtle questions about how fire can benefit the land," said Lamb. "Figuring out the timing of a burn to help manage invasive species means we can better manage the natural biodiversity that occurs within these landscapes."
Because member groups represent diverse ecological interests and management goals, the opportunities for new research and to ask new questions continue to grow.
"The CPPFE provides opportunities to train students and give them the experience needed to conduct research on prescribed fire," said Lamb. "In doing so, the CPPFE can continue to grow and be a needed support to conservation for years to come."