Sameeha Jhetam never imagined her love of animals would lead to a PhD program or being a member on the national youth council for agriculture. Jhetam, originally from Johannesburg, South Africa, is a graduate student in the Department of Animal and Poultry Science in the College of Agriculture and Bioresources. She is passionate about using her research to help producers.

"The agriculture industry is continually trying to improve animal welfare in livestock and poultry production, and so I think that using research and science to improve welfare and wellbeing of birds and animals is really important," said Jhetam.

"We have to be able to feed the world, and by feeding the world, we also want animals to live good lives while doing so."

Although Jhetam doesn't come from an agricultural background, she gravitated towards animal bioscience during her undergraduate program. After completing an honours thesis under the supervision of Dr. Karen Schwean-Lardner (PhD), an associate professor specializing in poultry management and production, she knew she wanted to stay in the college for graduate studies.

"It wasn't what I expected to go into, and when I started learning more about research and research opportunities, it sparked my interest. I just really love the research aspect of agriculture, and so I knew that that's where I wanted to stay," she said.

Jhetam began her master's program in poultry welfare with Schwean-Lardner as her supervisor in 2018. Her research project looked at the impact of stocking density on the performance, health and welfare of turkey hens.

She completed two trials, both of which were 11 weeks in duration, where she monitored 3,550 turkey hens. Every day, she would check on the progress of the turkey hens at the University of Saskatchewan's (USask) Poultry Centre and record data of both the physical condition of the birds as well as the behavioural conditions.

"Focusing on management practices and how that affects poultry welfare, using day-to-day management practices that producers use, and trying to improve (upon those practices) to improve animal welfare – it's a very big part of the poultry industry and that's what really attracted me to the field," she said.

There are 522 turkey producers across Canada, making it smaller than other poultry industries, such as broiler chickens. Turkey welfare and management is less researched, but Jhetam sees it as more reason to contribute research for underserved turkey producers.

"Turkey hen research and how stocking density affects turkey hens hasn't been studied in 22 years, so this project is pretty novel in terms of time. We really hope that from this research industry can make stocking density recommendations," said Jhetam, who successfully defended her master's thesis in July 2021.
Advocating for agriculture
Jhetam is passionate about improving the livestock industry and helping poultry producers. When the Agriculture and Agri-Food Canada put out a call for applications to join the first Canadian Agricultural Youth Council (CAYC), she jumped at the chance.
From over 800 applications, Jhetam was selected to be one of 25 members to sit on council for an 18-month term starting in January 2021.
Jhetam's council responsibilities include youth outreach, especially to youth in urban centres, to make them more aware of topics in agriculture and to consider a career in agriculture. She manages the CAYC social media channels, and is working to unite agriculture with education by starting in classrooms.
"We see a big gap in what youth understand about agriculture careers and some barriers to entry, so I think if we start from the elementary education level, we might be able to get more people into the industry," she said.
Jhetam hopes to see more youth from various backgrounds entering the sector because they will bring new perspectives and knowledge and help contribute to the growing need to feed the world's population.
Not only did Jhetam feel it was important to represent the poultry industry on council, but she also wanted to contribute her perspective as a Muslim, immigrant woman of colour in agriculture.
"I think that by me following my passions and aiming to work in the poultry industry and by being that small representation, it might encourage more diversity in the sector."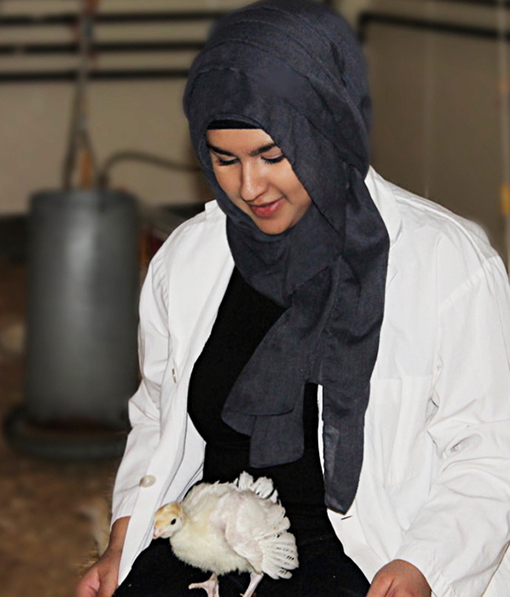 Industry engagement
In fall 2021, Jhetam will begin her PhD program and a new research project on the wellbeing of leghorn chickens during the hatchery process. What drew her to this project is that she will have first-hand experience about hatchery management through an internship during her research.
"Mitacs funding allows us to partner with industry, and in this case, we were very fortunate to partner with multiple poultry industry groups across Canada! Not only does this program allow us to match funding, but a requirement is that the student gets to work with one or more of the industry partners," said Schwean-Lardner.
Mitacs is a national, not-for-profit organization that designs and delivers research and training programs across Canada.  
"Sameeha will be able to work with a commercial leghorn breeding farm and a commercial hatchery as a partial meeting of this requirement. It is so exciting that she will have this ability to learn industry practices!"
Jhetam is undertaking a large project made up of three distinct parts, all of which are novel areas of research. The first part is assessing whether an infrared beak treatment (IRBT) holding device used on newly hatched chicks impacts their stress levels and overall wellness.
The second part of the project focuses on the space allotments in transport boxes, and whether there is an effect on the nutrient absorption or behaviour of leghorn chickens. The third part involves assessing whether during long-term transport, if early, interrupted or no feeding at all will impact the health and welfare of the chicks. 
Jhetam is looking forward to contributing to a novel area of poultry research, and she's thankful that the College of Agriculture and Bioresources provided her opportunities to partner with industry in her research.
In the span of six years at the college, Jhetam has become an outstanding contributor to livestock research, industry, and policy. Her passion for helping animals led her to a career she loves, and for any youth considering going into the field, she encourages them to let that passion lead them. 
"Pursue what you're passionate about," said Jhetam. "A career in animal science and livestock is very fulfilling. It feels like you're making a difference in the lives of many animals. Always work hard and follow what you're passionate about."
Agknowledge, Fall 2021