"I'm trying to make sure producers can continue to produce in a sustainable way, and make sure they can improve their efficiency," said Dr. Gabriel Ribeiro (PhD), assistant professor in the Department of Animal and Poultry Science and the Saskatchewan Beef Industry Chair.
Through his work, he wants to help producers use their resources in the best way possible, and make sure animals stay healthy while converting those resources efficiently.
He recently finished an animal study looking at the impact of ergot alkaloids in feedlot cattle diets. Ergot alkaloids are produced by a fungus that infect cereal grains during the flowering stage.
"We've done some work trying to understand the impact of that in beef cattle, on the health side, and growth and performance of the animals."
The study was undertaken at the Livestock and Forage Centre of Excellence at the University of Saskatchewan (USask) and compared the impact of different levels of ergot alkaloids in cattle's diet, including below recommended levels and near maximum recommended levels, according to the Canadian Food Inspection Agency.
"Even levels below what should be a maximum limit to feed animals, we can still see animals having issues with reducing their performance, reducing their intake and their weight gain," he said. "We're pretty excited with this data and results of this research because we can advise producers and improve legislation and regulation."
His master's student Jenna Sarich is leading that research. The research is important because producers want to know what level of contamination of their grain they can have in the diet of the animal without impacting the health of those animals. And it's going to become more important to understand how it affects animals because ergot alkaloids are impacted by climate change. With the changing weather, he said more contamination of cereal grains is expected.
Cattle have a special ability to eat lower quality feedstuffs in a way that humans can't. Ribeiro said that most of the barley grown is meant for the malting industry, but about 70 per cent doesn't meet the standards for human consumption and gets downgraded to animal feed. Similarly, distillers' grains from the fermentation of corn or wheat is a byproduct rich in protein and fibre, which can be dried or pelleted to produce feed.
"Cattle are better than any other species at efficient use of those byproducts," Ribeiro said.
"When we look at the benefits of having cattle around, they're using a lot of feed that doesn't meet human quality standards and byproducts from industry."
But at certain levels, it can still have a negative impact on the animal, so it's important to understand what those levels are.
Reducing the environmental impact of beef
Another project Ribeiro is working on with a different master's student, Jenilee Peters Tarasoff, is to develop an easy way to estimate the intake of beef cattle in the pasture, with the goals of selecting more efficient animals and being able to adjust the diets of the animals.
"In grazing animals, it's really hard to get that information," he said. "All the methods we have are crude and it's hard to get individual animal intake. Usually we have an assessment of a group of animals but that is an estimate, so still not a really good number."
In this research, they are trying to use near infrared spectroscopy (NIRS) of the feces of the cattle to provide that information. They're in the process of developing calibrations that will allow them to correlate the findings with the animal's intake.
The first stage of that project has been a very controlled study where they're collecting the data that will help them create a tool for producers.
"It takes less than a minute to scan the feces of those animals in the NIRS machine and we can quickly estimate how much they are eating, how much they are digesting, if we think there's a nutrient in the diet they aren't consuming enough of, we can then adjust that."
Ribeiro's goal is to develop a tool for producers that's easy to use, fast and cheap. Once it's developed, the tool will give producers the ability to rank the animals by how much they are eating and how much they are converting that feed into meat — something that's labour intensive and limited with current practices.
If producers understand how much the cattle are eating, and how much of that food they're converting to meat, they can select animals for breeding that are more efficient.
More efficient animals mean you would need less feed or less grazing area for the same number of animals, reducing the environmental impact of beef cattle production and helping the producer's bottom line.
Pasture-fed animals also don't always get all of the nutrients they require for optimal health, and this process would allow producers to supplement the animals more precisely, Ribeiro said.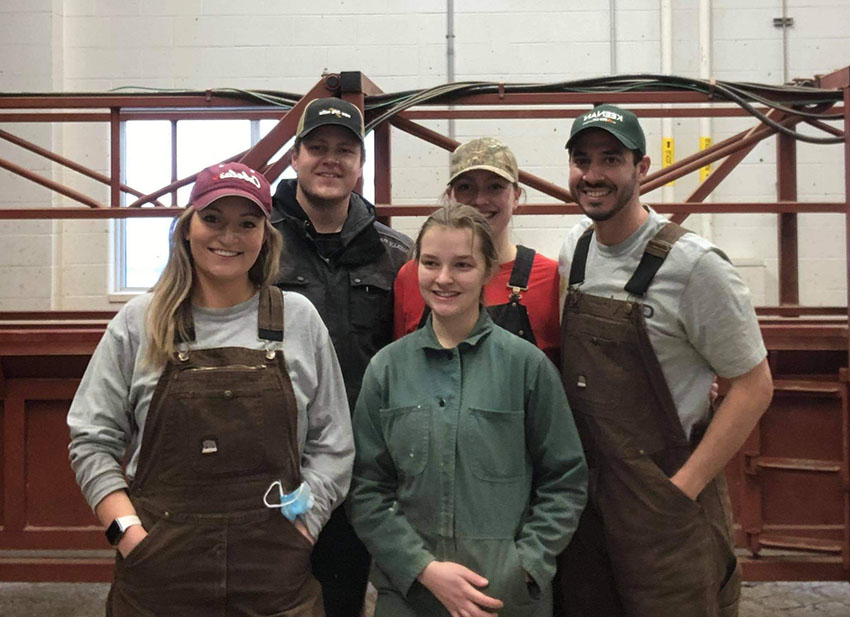 A 10,000 kilometre journey
Ribeiro hails from the state of Minas Gerais in Brazil. It's an inland state in the same area as the states of Rio de Janeiro and São Paulo. He's from the capital city of Belo Horizonte, but he said his family is involved in farming cattle.

"I was always helping out and working with the farm," he said. "When it came time to do university, I wanted to do veterinary school."

While earning his veterinary degree at the Universidade Federal de Minas Gerais, he had an opportunity to do some research on ruminant nutrition with the animal science department, sparking an interest that led him to complete his master's and PhD on that topic.

He was first introduced to Canada in 2012 via a Brazilian federal scholarship that funds international research. He also worked in Lethbridge, Alta., for Agriculture and Agri-Food Canada as part of his PhD.

When a colleague in Lethbridge invited him to continue to work with him after Ribeiro's PhD was completed, he agreed.

"I was excited to go back because I had a great experience in Lethbridge," he said.

He did a post-doctorate in Lethbridge, and then got a job as an assistant professor at the University of Calgary in 2018.

Ribeiro was drawn to the position at USask because it came with the industry chair and the university had recently unveiled its new beef research facility. He joined USask in September 2019.

"When I first went to Lethbridge, I never thought I would be living in Canada," he said.

He was looking to learn a lot and to go back and work in Brazil, but there were good opportunities for work in Canada and he enjoyed the industry and the people working in it.

As the Saskatchewan Beef Industry Chair, he works closely with producers to answer their needs, and he said he enjoys helping producers and the beef industry in general.

He also enjoys teaching and working with students.

"It motivates me to continue to work with this exciting industry and push forward," he said.
Agknowledge, Fall 2021