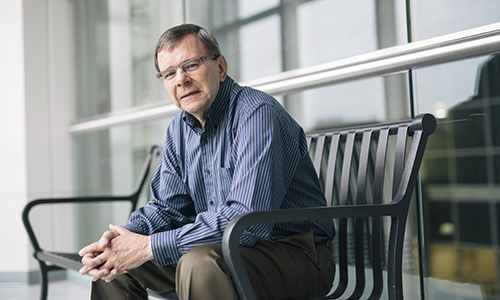 Coulman, professor emeritus in the plant sciences department of the College of Agriculture and Bioresources, succeeds LFCE director Kris Ringwall who will retire at the end of October, enabling a two-week transition period.  
"The LFCE is a unique site for innovative research, teaching and industry engagement that is already making a difference for livestock and forage producers across Western Canada, thanks in no small part to the leadership of Kris Ringwall," said USask Vice-President Research Karen Chad.  
"I am delighted that Bruce has agreed to take the LFCE into its next exciting phase of development, which includes a focus on smart farming for enhanced productivity. He's a highly regarded leader and award-winning forage researcher whose work has significantly advanced Canada's livestock industry." 
Since the LFCE was established two years ago, Ringwall has laid the foundation of the centre, consolidating staff from Termuende Ranch, Goodale Farm and the Beef Cattle Research Unit into one team. Two cattle herds have been merged into one at the LFCE south of Clavet. 
"Kris has brought three distinct operations together under one roof and set us on the path towards a new and exciting way of carrying out innovative livestock and forage production research that supports sustainability, profitability and environmental stewardship," said Angela Bedard-Haughn, dean of the College of Agriculture and Bioresources.  
A leader in the breeding and genetics of perennial forage grasses and annual cereal forages, Coulman has developed 22 forage crop cultivars over his 40-year career. In 2008, the Canadian Seed Trade Association honoured him with the Canadian Plant Breeding and Genetics Award in recognition of his productive career. In 2014, he was honoured with the Forage Industry Innovation Award by the Saskatchewan Forage Council for his research, teaching and student mentoring.  
 
A USask alumnus, Coulman taught at McGill University for 17 years, during which time he served as plant sciences department chair for five years. He was a research scientist with Agriculture and Agri-Food Canada before joining USask in 2005 as head of the plant sciences department where he served for eight years. He has chaired Canadian expert committees on forage crops and plant genetic resources, and has been involved in numerous international agricultural research and development activities.  
 
Coulman will jointly report to Bedard-Haughn and Dr. Gillian Muir, interim dean of the Western College of Veterinary Medicine, who oversee the centre on behalf of the vice-president research. 
The LFCE is a world-class complex of field and science laboratories that models and advances all aspects of raising livestock on the Canadian Prairies. Recently, USask and SaskTel partnered to launch a new smart farming "living lab" at the LFCE, the first research "smart farm" in Canada focused on maximizing efficiency in livestock operations by testing, developing and demonstrating world-class agricultural technologies. 
-30-  
For more information, contact: 
Lana Haight 
LFCE Communications Specialist 
306-371-1934 
lana.haight@usask.ca 
Victoria Dinh 
USask Media Relations Specialist 
306-966-5487 
victoria.dinh@usask.ca