Close to 150 representatives from the Agriculture Students' Association (ASA) helped in their bed push event, which raises money for the annual telethon. This year the group raised over $43,000.
The bed push is a fundraising tradition in the college dating back close to 40 years. It involves a rotating team of four pushing a hospital bed from Saskatoon to Regina. Once they are arrive, their funds are donated to Telemiracle.
It's a tradition that Carson Jorgenson, a fourth-year student and ASA executive member, is proud to be a part of. 
"It's cold," he admitted with a laugh, "but what I've been finding is our sponsors are families and past graduates which is really cool."
He recalls attending a Telemiracle fundraising banquet earlier in the year and meeting a woman whose life had been impacted because of funds received from the yearly telethon.
"Just being able to put a face to a name and be able to see that, I think that's what the ASA and the agros try to do on a daily basis—just try to make everyone feel included, feel like family, and be able to see it here," he explained.
Also involved in the bed push were representatives from the Saskatchewan Agricultural Graduates' Association (SAGA). One such alum, Al VanCaeseele, recalled participating in the event while attending university in the 1980s, and tries to remain involved in the event; this year he ran with the students for two days and logged over 26 kilometres.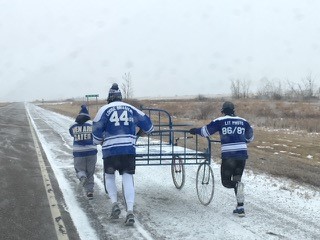 PHOTO: Alumni pushing L Bossaer A VanCaeseele C Lang 2018
"I forgot how passionate the agros are when it comes to their activities and their traditions," he said. "Spending a couple of days with the students brought back a lot of memories for me of my days at the college. It reminded me of all the fun we had at the U of S, but it also reminded me of all the great things we did for a lot of different organizations while we were there." 
The telethon also saw a significant bequest from a former swine researcher and professor.
Phil Thacker, who passed away from pancreatic cancer last spring, left over $1.5 million in his bequest—the largest ever made to Telemiracle.
Though he didn't take any classes from Thacker, VanCaeseele sees his bequest as a boost to the college and those involved in the agricultural industry in the province.
"His unbelievable donation truly does exemplify his character and will leave a legacy to all that it will aid," he said. "It is an inspiration to students, both past and present, to what an impact a person can have on the lives of those around them. It can't help but make you feel proud."