In the face of complex global trade agreements and scientific innovation to manage climate change, policymakers continuously work to develop meaningful responses that will sustain Canada's economy. Policies that once primarily focused on domestic need, now must address broader international issues as well. This shift from local to global is most evident in Canada's agricultural industry and is felt at every step of the ladder.
"As global climates and growing conditions continue to change, it's important to understand how we can enhance food supplies around the world, while also ensuring that producers can prosper," said Tyack, assistant professor and current holder of the Van Vliet Professorship in the College of Agriculture and Bioresources at the University of Saskatchewan (USask). "The potential negative impacts of climate change on agriculture will have economic impacts as well. Understanding how to mitigate these risks is essential."
Examining the role and influence of genetic diversity in agriculture is a complex task – there are many sectors, stakeholders, and consumer perspectives to consider. Tyack focuses on the economic value of genetic resources and biodiversity, and specifically investigates how farmers and members of the public value crop diversity.
"I am fascinated by the economics of innovation in agriculture. And in particular by the question: how can innovations, such as new crop varieties, be successfully diffused from one setting to another?"
The value of genetic diversity
Plant genetic diversity, including that found in both cultivated crop species and their wild relatives (CWRs), is a rich source of valuable traits that include disease resistance, drought tolerance, quality, and genes for higher yield, that can lead to greater success for producers year-over-year. The economic value of these resources – typically conserved in genebanks – is however difficult to estimate.
Much of the existing research explores how demonstrated and predicted values of genetic diversity on a large scale, or how selecting for specific traits, can lead to increased revenue or profits. While the commercial value of plant genetic resources is important, it is only one part of a much larger picture.
"It really only represents a small part of its total economic value to society," said Tyack. "Conserved genetic resources provide a number of values not captured by direct use for breeding in any given year, such as option value - maintaining the ability to use a crop variety for breeding in the future – and cultural values provided by heirloom varieties and landraces."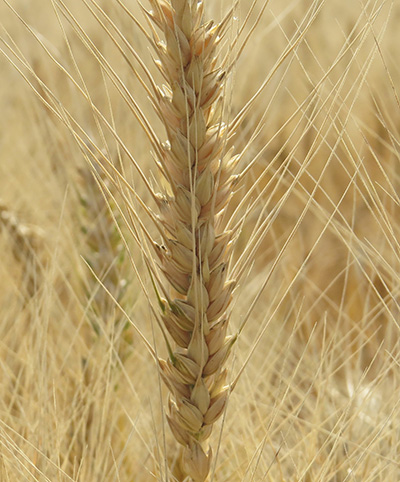 Understanding willingness to adapt can lead to improved food security
Working alongside organizations around the world, including those helping manage genebanks located in Africa, the Arctic, and in the Czech Republic, Tyack has published several papers that examine and expand on the relationship between genetic resources, crop conservation, and agricultural innovation.
"The connection between genebanks and farmer experimentation with novel crop varieties supported by genebank activities is essential to better understand the economic values provided by these collections," said Tyack.
Understanding how innovative approaches to agriculture flow from research and development activities to practice is an important step to help address some of the effects of climate change in agriculture.
"We've found that farmers value the services provided by genebanks – not only in terms of providing genetic inputs to improved varieties but also for their conservation of agricultural heritage. Understanding the challenges and successes of past and current agricultural technological diffusion can provide insights of value for the coming years."
This economic lens to agricultural bioscience marries research that enhances crop production and resiliency to social values provided to the producer as well as the broader general public. As a result, policymakers are provided with insight about what kinds of investments are required to support producers in their efforts to adapt to new technology that is relevant for and adapted to their own personal settings and circumstances.
USask offers unique opportunity
The Van Vliet Visiting Professorship in Agricultural Economics was established in 1985 in honour of the contributions of Dr. Hadley Van Vliet (PhD) made to the agricultural industry in Saskatchewan and Canada through his teaching, research, and community outreach. 
Tyack is the 11th person to hold the Van Vliet Professorship. His education took him around the globe before moving to Saskatchewan to accept the position. Tyack earned his bachelor's degree in biology from Pomona College in California before heading to Europe for his graduate studies. In Prague, he got his master's degree in economics from Charles University, then headed to Switzerland to earn his PhD in development economics from the Geneva Graduate Institute. 
"This position offers an invaluable opportunity for collaboration with several groups both locally and internationally," said Tyack.
Because agriculture is the dominant industry in Saskatchewan, understanding how it impacts or is impacted by global trade patterns is key to ensuring the province's economic success. The Van Vliet Professorship provides space for recognized expertise in agricultural and international economics to explore the issues faced by producers, distributors, and other industry experts.
Tyack says one of the advantages provided by USask is its strength in crop breeding at the Crop Development Centre as well as its collaborative relationship with GenomePrairie, a non-profit organization that works to capture and maximize the benefits of research in genomics and related biosciences. This focus on crop breeding and genetics provides him with the opportunity to learn more about the natural science underlying the value of crop wild relatives and genetic resources.
"In a period of global food insecurity, it is necessary to understand how specific crops, such as the protein-rich lentil or chickpea, can provide value both as a food source and as a contributor to soil health and conservation agriculture." 
Tyack is looking forward to working with researchers and students on projects managed by GenomePrairie, including the 4D Wheat project, which examines the role played by genetic resources in enhancing yield and helping to manage producer risk. One area he highlights is the potential use of crop insurance data to better quantify how new crop varieties can lead to yield gain in different cultivation zones.
"There's a lot of economics to consider in these processes, including the promotion of good innovations into everyday practice. I am also looking forward to working with Indigenous groups and producer groups to better understand their perspectives on agriculture in Saskatchewan."
Agknowledge, Fall 2022