For Professor Emeritus Dr. Robert (Bob) McKercher (PhD), travelling to Aberdeen, Scotland, in 1963 for his PhD research studies at the Macaulay Institute for Soil Research in Soil Fertility Department would end up changing the course of his life.
While studying there, a "lively Scottish lass" caught his attention – Norma Mellis, the departmental secretary. Part of Norma's work involved reporting to mostly farmers on the hundreds of soil sample test results. Bob enjoyed her warm personality, Scottish sense of humour, and love of adventure. 
Bob wanted to delve into his Scottish family history and Norma was his well-versed Scottish guide. They married in 1965, Bob defended his thesis (typed by Norma) in May 1966, and they toured Italy and Switzerland before sailing to Canada in July 1966.
"I was ready for another adventure, and this was the biggest one of my life!" said Norma.
Their new Volvo came on the ship, and they spent a month driving from Montreal to Rosetown, ending their trip in the area where Bob was raised.
Studying abroad had a huge impact on Bob's life, and he has encouraged students to take advantage of the same opportunity ever since. Bob invited interested summer students from Aberdeen University in Scotland to work in the Department of Soil Science at the University of Saskatchewan (USask). The McKerchers hosted five international students for short terms at their own home over the years.
"They really benefited from this opportunity," said Bob. "They had a different work experience as well as culture and went home with a broadened outlook."
The McKerchers are avid travellers, too — Norma's Scottish roots are important to her and she has travelled "home" to Scotland 34 times. They have used the opportunity to travel extensively in Europe.
Their appreciation for broadening one's horizons through travel is why they are establishing a graduate scholarship for international study; they'd both like to see more students taking the opportunity to study abroad.
50 years on campus
Raised on a farm south of Rosetown, Bob's father James McKercher died in 1941 when Bob was only 10 years old, leaving his mother, Zelma, to run the farm and care for three young sons.
For university, Bob chose the science track at the USask College of Arts and Science, staying in "Pres Res" on Spadina Crescent for $45 per month. In his second year, he transferred to the USask College of Agriculture, preferring the more heavily science-based courses.
In 1955, the head of the USask Soil Science Department, Dr. John Mitchell (PhD) offered Bob the position of first departmental assistant.
"I jumped at this offer as it took me all over the province doing field strip fertilizer tests and valuable extension work," said Bob. He also worked on soil survey for two summers.
When Bob returned to Saskatoon in 1966 after his sojourn to Scotland, he was appointed as an assistant professor in the Department of Soil Science, researching soil organic phosphates and soil applied pesticides. Bob excelled in his career at the university, working his way up to full professor, and was recognized as an innovative agriculture teacher.
"The College offered me so many opportunities as a teacher, mentor, researcher, administrator, and, most of all, my relationships working with the students," said Bob. "Some students still keep in touch, and I appreciate hearing about their career successes."
He also played an integral role in the planning and construction of the Agriculture Building, which opened in 1991. Bob and Ted Turner later wrote a book called The Sodbusters Vision: An Agriculture Building for the University of Saskatchewan, which tells the history of the building. He says seeing that building take shape from the ground up is one of the highlights of his career.
"I worked closely with the architect, Obert Friggstad, and what a rewarding learning experience that was. The official opening in 1991 was a dream come true. Even after 31 years, the building looks new, well maintained and is an important landmark on campus. I am proud to have been involved in this project." 
Following a sabbatical in New Zealand in 1992 where he studied phosphorus cycling in forest soils, he took on the position of associate dean, College of Graduate Studies and Research, assisting graduate students as needed from 42 departments on campus.
"The graduate college had connections in all departments; I really enjoyed that experience."
In 1997, he returned to the College of Agriculture as assistant dean (planning), applying his experience by assisting with the 6th floor addition. Bob retired in 1998 after almost 50 years on campus.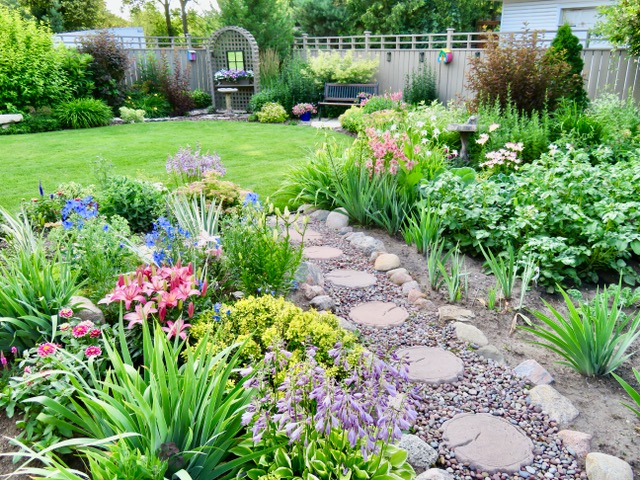 Supporting continued learning
Norma settled into life in Saskatoon well, getting to know Bob's colleagues and students and participating in departmental social gatherings.
"Soil science was such a friendly department," said Norma. "Your colleagues were your friends. ... We had some of the best times there."
Norma worked casually on campus in various departments, spent 24 years with the Saskatoon Public Board of Education, and worked six years as a staging consultant with In Fine Order: Real Estate Staging Services.
Norma is an enthusiastic gardener and coming to Canada was a big learning experience — her hometown of Aberdeen has a Zone 9 hardiness rating while Saskatoon falls in Zone 3. Over the years she turned to USask's Hort Week and Gardenline for valuable information. Now through Gardening at USask, she continues learning through their many online programs.
"During COVID, those classes have been a godsend," said Norma. "We both took many classes the last couple of years. … Since the program has gone online it has just blossomed — they provide a wonderful service there."
Norma wants to see Gardening at USask continue to thrive, so the McKerchers are supporting the program to expand its online gardening classes and to provide website enhancements.
Deep ties to USask
Today, the McKerchers have multi-generational ties to the university. Both their son Grant and their daughter Morag are USask graduates — Morag received her Bachelor of Arts with Distinction from the College of Arts and Science in 1991 and Grant received his MBA from the Edwards School of Business in 2015 and is a member of the Senate. Bob and Norma's granddaughters are also now attending the university. Ella is a fourth-year physics student and presently starting a three-month internship in Darmstadt, Germany. Phoebe finished her second year at the Edwards School of Business and is planning to take advantage of the study abroad program.
Bob's university connections went beyond his official titles as well, serving the Saskatchewan Agricultural Graduates Association (SAGA), chairing his class's reunion committee for many years, and sitting on the board of the Saskatchewan Agricultural Hall of Fame (which he himself was inducted into in 2017).
"I have been a proud and involved Agro since graduating 68 years ago," said Bob. "The college has been an important part of my life in so many ways, and I have learned and appreciated working at all levels."
With these deep ties to the university and the College of Agriculture and Bioresources, the McKerchers wanted to give back.
In addition to establishing a graduate scholarship for international study and supporting the Gardening at USask program, the McKerchers are also establishing an undergraduate scholarship in Soil Science, supporting a SAGA undergraduate scholarship, donating to the Dean's Fund supporting AgBio students' outdoor practical experiences, and supporting the construction of a new soil science field facility.
"What better way to show one's appreciation to the college for all the student and career support, opportunities and personal advancement than to give back so this valuable trend can continue," said Bob. "In these tough financial times, the college is so appreciative of donations from alumni."
Although retired for 23 years, you may still spot Bob on campus with Norma at his side — perhaps visiting the new soil science field facility when it opens, or at their granddaughters' convocations, or on one of their Sunday walks through the Bowl.
"Norma and I often walk on campus and viewing the grand old limestone buildings brings back memories of so many productive and fun-filled years as a student and faculty. Little did I know back in 1949 what my career path would be. I just hoped to pass all the exams!"
Agknowledge, Fall 2022