Founded in 2018, the LFCE at the University of Saskatchewan (USask) is a world-class complex of field and science laboratories advancing all aspects of raising livestock on the Canadian Prairies. It's the first "research smart farm" in Canada, with a mission to advance efficient livestock operations.
The LFCE is comprised of the Goodale Site, the Native Hoofstock Centre (a bison facility), the Clavet-area forage cow-calf research and teaching unit (FCCRTU), and the beef cattle research and teaching unit (BCRTU, including an intensive feedlot and metabolism barn), and four quarters of land owned and leased between Clavet and Goodale areas, the Termuende Ranch and Pathlow pasture.
And, of course, there are the stars of the show.
"The LFCE herd includes 300 cows and 100 replacements every year or 400 in total; and we are moving to 80 bison in two independent herds, one of pure Woods and one of pure Plains bison," said Dr. Scott Wright (PhD), LFCE director. There are also horses.
All of this is managed by 13 animal technicians, and five staff in administration and supervision. The researchers come primarily from USask and its cooperators.
"Researchers are a deep partnership with us, international leaders in their fields," said Wright. "Key researchers like Drs. Gregg Adams, Jaswant Singh, Bart Lardner and Greg Penner, on the environmental side Drs. Phil Harder, Terry Fonstad and Jeff Schoenau, and Bill Bilegetu in forage breeding, are our research core; our job is to make them more successful."
"Working with them to better their work, and supporting new and emerging research programs with veterinary, animal and forage, and ag engineering and economics, the list goes on . . .  they are our key clients, and that's the backbone of what we provide."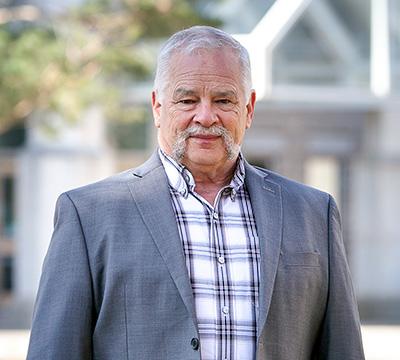 The path to LFCE
Wright's education and long career, which began in beef and forage research, laid down a winding but clear path to the LFCE. His master's degree is in animal science and his PhD in plant breeding, both from USask, following his bachelor's in animal science from the University of British Columbia.  
After attaining his PhD, he worked for Agriculture Canada as a forage breeder and agronomist and then managed the forage-based Melfort Research Station, with heightened activity through to the mid-90's. In 1995, the government downsized the station by two-thirds, and he was manager through that process.
"From there, I went on to co-chair the Western Forage Beef Group out of Lacombe, Alta. Ironically, that's where we moved the forage program from Melfort."
He has held many leadership positions in the agriculture industry, including executive director of the USask Feeds Innovation Institute and director positions with Agriculture and Agri-Food Canada.
Most recently, he worked for StarGroup, a boutique fresh produce organization, for which he ultimately served as senior vice-president Food Safety and Government Relations, and head grower of the technologically advanced 10-acre WholeLeaf Greenhouse in Coaldale, Alta.
Wright sees a broader need for "intensive research capacity" for the parent and partner institutions of LFCE, such as the Goodale Farm and Western College of Veterinary Medicine.
"Picture inoculations, vaccines, painkilling drugs, those kinds of things," said Wright. "That really requires a different setup and approach than what we have taken thus far."
To achieve the intensive approach, Wright has three things on his priority list as he moves into his second year of leadership. The first is developing capacity on the intensive livestock research side including a dedicated funding stream for this work.
"The second is to rationalize and understand the need for additional land base."
"The third is around the industry, partner and stakeholder relationships. We have room to develop strong relationships with the Ministry of Agriculture and their extensionist specialists; with industry like Saskatchewan Forage Council, Saskatchewan Stock Growers, and Saskatchewan Cattlemen's Association."
"I believe this will ultimately see industry sponsors and donors more directly supporting operational costs that allow us to be the glue, connecting funded projects into more integrated approaches and taking advantage of the technologies made available by managing our own herds.  That was seen as part of the vision initially."
"We also have an area of Indigenous stakeholders that we are just beginning to explore — what we can learn from them. That's very exciting at the livestock end, the cattle end and the bison end."
Growing capacity
LFCE recently received a grant from the Canada Foundation for Innovation for a project called IntegrOmes, which involves a genomic-level understanding of the animal in its environment.
Wright sees being able to "take a hair sample of the cow and have it tell you how efficient she is going to be in forage conditions, or a manure sample to evaluate how she's going to respond to an antibiotic for a disease she's carrying."
"That's the future. And we expect to break ground on it this year. There is new equipment and lab capacity happening at the university itself and a new facility at the LFCE-Goodale site."
Wright is always looking for more funding to "fit in between the research projects" and create operational connections. The LFCE runs on a $7 million budget, but Wright thinks $9 million would be more appropriate for the kind of fully integrated systems work possible at the LFCE.
"We'll continue to look for those donors who want to showcase or demonstrate their technologies, be it new tractors, new feed processing equipment. We're open for business to those organizations now, to showcase, use and demonstrate what they have. They can donate equipment, or lease equipment, as well as funding."
"We can do the same things with fencing technologies and showcase the manufacturer as part of this process of livestock and farming technologies."
In its third year of full operation, the LFCE is making the connections all the way from soil to the dinner plate, including environmental impacts and social credibility.
"The uniqueness of this facility allows us to begin to build integrated systems research approaches, so that instead of just looking at how a forage might influence a feeding opportunity, we look at the implications of growing that forage, of land and the activity and the economics," said Wright.
"When you look at feeding the animal, it's not just how does that affect production, but how does it affect quality, and we're trying to get to the point of looking how that affects the environmental, the economic and the social sustainability of that operation."
"The uniqueness is about trying to put the pieces together. It's about sustaining livestock and forages in Saskatchewan and the Prairies."
Agknowledge, Fall 2022