The ability of a small yet committed group of people to effect change is always encouraging. When it comes to the Agricultural Students' Association's (ASA) bi-annual Bedpush fundraiser, when two dedicated women were at the helm, the results were nothing short of inspiring. In 2022, the Bedpush organizers smashed their goals and raised the most in the fundraiser's 40-year history: $88,142.69.
Bedpush helps raise support and awareness for TeleMiracle, a telethon fundraiser for the Kinsmen Foundation. The Kinsman Foundation is a volunteer organization that provides resources for medical assistance and equipment for residents of Saskatchewan. Bedpush  volunteers spend three days pushing a metal bedframe from Saskatoon to Regina in early March.
Two ASA members from the College of Agriculture and Bioresources at the University of Saskatchewan played pivotal roles in the event's success. Kate Sauser, who will graduate next year with a Bachelor of Science in Agribusiness, is the ASA Public Relations Officer and leader of the 2022 Bedpush. Fellow organizer, Josie Huber, was the ASA President and Treasurer for 2021/2022. Huber graduated with a Bachelor of Science in Agribusiness in spring 2022.
How Bedpush began
Back in 1982, a few Agros were out socializing and came up with the bizarre idea to push a metal bed frame from Saskatoon to Regina – on foot. Bedpush began that year with an old hospital bed frame. It has continued bi-annually ever since, albeit the original frame has been replaced with a smaller (and lighter) version, complete with its own steering system.
A group of students, alumni, family and members of the ag industry join to spend a few wintry days pushing the bed down Highway 11 to Regina. A bus and pilot vehicles travel the route to ensure safety for everyone and provide a place for the runners to take breaks. People can drive their own vehicle to join the Bedpush convoy (the group takes donations along the route from intrigued passers-by).
"Bedpush has always been about TeleMiracle and bringing our college and ag community together to rally for such a great cause," said Sauser. "The ASA supports TeleMiracle's goal and mission."
While the fundraiser is primarily about giving back to TeleMiracle, Bedpush also provides networking opportunities with alumni from the ag industry who come to help push. Current students get to discuss their future careers and experiences in the industry.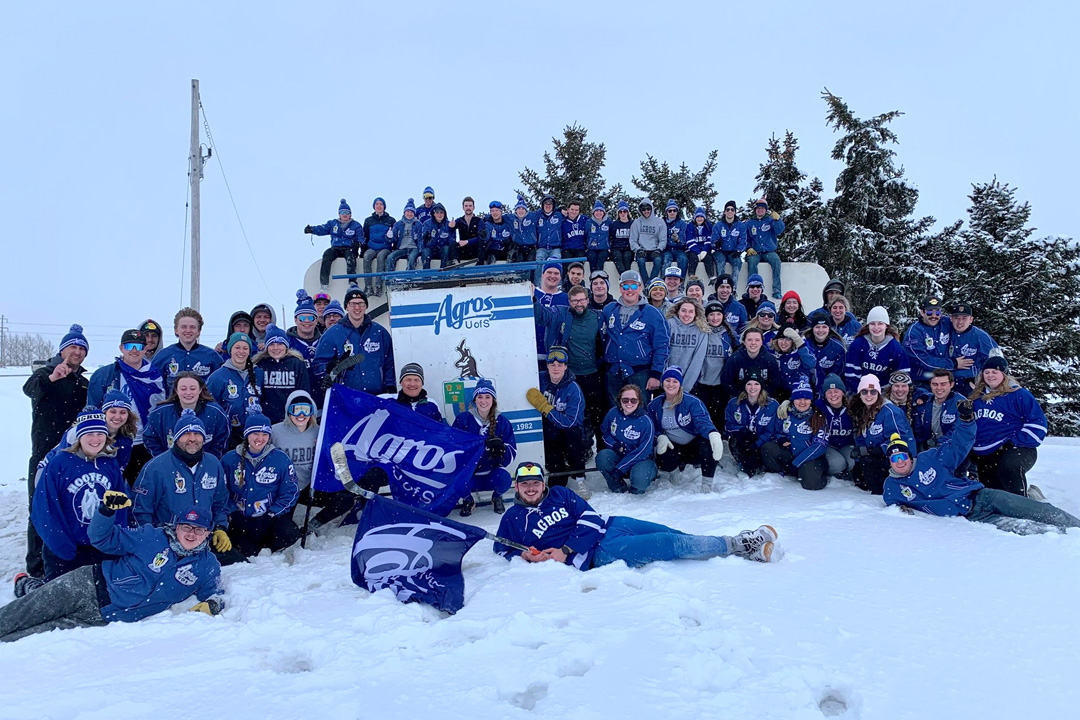 Strength in community
This year marked the second time Sauser and Huber participated in Bedpush and both say it wouldn't be possible without generous support from the ag industry, the volunteers and donors. Sponsors provide snacks, water and lunch for the volunteers and some even come out to help push.
"These people are always a great help to us," said Sauser.
Alumni also volunteer their time, some since the event's inception, despite the weather. And during 2022's event, the weather would have made most think twice about volunteering.
"We dealt with a lot of blowing snow, wind, icy roads, and cold weather," said Sauser. "The wind was often blowing straight at us too, which made it extremely difficult to keep pushing."
While runners on Thursday and Friday weren't as numerous, Saturday boasted the best turnout with 50 students. Several alumni came out each day, which Sauser appreciated, including three multi-generational Agro families.
"They are such a key part to our success as they have many connections through the province and are able to get us more exposure within the ag industry."
For Huber, 2022 marked her final Bedpush as a student. She was proud the group overcame the challenges of pushing the bedframe through blowing, drifting snow.
"One of the best memories for me was just sitting in a truck taking it all in: the great cause and doing it with my friends. It felt surreal to just embrace it," said Huber.
Sauser was honoured to be part of Bedpush's 40th anniversary event. While it was challenging to raise funds during the COVID-19 pandemic, Sauser said they were lucky that the pandemic's height held off during February, their main fundraising month. She's proud of leading the college to a successful event and outcome.
"Watching my Bedpush committee work so hard for four months to prepare for such a large event, as well as watching all of my hard work come together to donate that $88,142.69 cheque to TeleMiracle was one of the best feelings I have ever felt," said Sauser. 
Philanthropy at the heart
Sauser said the 2022 Bedpush smashed their fundraising goal thanks to generous support from online donations. The ASA also held in-person fundraisers such as auctions, a raffle, a bingo and athletic events. Bedpush isn't the only recipient of the ASA's fundraising efforts, however.
In 2021, the ASA received two Youth in Philanthropy awards recognizing the extensive work the organization does to give back to the community.
As Sauser explained, "The ASA finds it rewarding and fulfilling to be able to help those in need within our city, province, and industry. It's how we create a strong sense of Agro pride and pull the community together. We are only a small student association, but any positive impact we can make is a step in the right direction."
The ASA holds other fundraisers throughout the year, like Saskatoon Food Bank drives. The group also collaborates with and donates money to various mental health initiatives. And on non-Bedpush years, they hold a "March for Stars" fundraiser in support of STARS Air Ambulance.
Lifelong AgBio memories
In the end, Huber, who comes from a long line of AgBio alumni, remembers her last year as an AgBio student fondly.
"This year's Bedpush has been one of my greatest memories. It was an amazing opportunity to be a part of something greater than myself and do it along with all my friends; truly an unforgettable moment," said Huber.
Sauser's farming background and passion for the agriculture industry and its opportunities led her to choose the College of Agriculture and Bioresources for her studies. Leading the Bedpush 2022 fundraiser stands out as her favourite memory thus far.
"To watch the whole college, ag community, and alumni rally together to reach such an amazing goal was a truly unforgettable moment for me. That moment when I passed over the cheque and revealed how much we fundraised, which was over $30,000 more than our 2020 Bedpush, was a surreal feeling," said Sauser. 
Agknowledge, Fall 2022