Greenhouses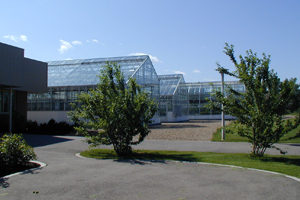 The Agriculture greenhouses are located north of the Canadian Light Source (CLS) at 45 Innovation Blvd.  The greenhouses are a state-of-the-art facility consisting of 13 glass greenhouses and one poly greenhouse with a total growing area of 1,860 square metres.  Each greenhouse can be programmed to specific temperature, humidity and lighting requirements.  Adjustments to day length as well as ebb and flow irrigation are options in some greenhouses.  Seven cold chambers are also available with programmable temperature and humidity controls for short or long-term storage.  Agriculture greenhouse or cold chamber space is available on a rental basis pending approval by the Growth Facility Committee, Department of Plant Sciences, University of Saskatchewan. 
The greenhouse facility performs three main roles within the College of Agriculture and Bioresources:
Teaching: Undergraduate and post graduate.
Several courses offered by the Department of Plant Sciences utilize the facilities to demonstrate the principles of greenhouse production of Horticultural crops.  The greenhouse facilities are also used to propagate and maintain plant and weed materials required for a number of undergraduate and graduate classes.
Research: The largest single use of the greenhouse facility is the propagation of plant breeding material during the winter season.  Over 20 different crop breeding programs utilize the College of Agriculture and Bioresources greenhouses.  Other research ongoing in the facility includes investigations of plant stress responses, disease control, fertility and water management in a range of crop and non-crop species.
Service: A significant portion of the main greenhouse complex is devoted to the propagation and renovation of the planting materials used in the College of Agriculture and Bioresources Agriculture Atrium and associated plantings.  the U of S Horticulture Club utilizes space in the greenhouse complex to house display materials used in club teaching functions and to generate plant materials used in fund raising activities.  Many of the plants maintained in the greenhouse are used in educational events on and off campus including the local Crop Production and Gardenscape Shows.
Contacts
For more information about the Agriculture Greenhouses or for information regarding rental space, as well as booking school tours of the facility please contact:
Greenhouse and Cold Chamber Rental Costs
Renter
Rates/Notes - May, 2022
College of Agriculture and Bioresources, Faculty/Staff

Regular Bench $2.30/ft²/month
Cold Chambers $3.20/ft²/month
Greenhouse G, Flood Floor $3.50/ft²/month
Greenhouse B1 Mist Chamber $3.10/ft²/month
Watering $1.15 /ft²/ month

Other Faculty/Staff from the University of Saskatchewan Campus
Off Campus/ Individual/ company
Greenhouse Temperature Data
2017 College of Agriculture Greenhouse Temperature Data
2016 College of Agriculture Greenhouse Temperature Data
2015 College of Agriculture Greenhouse Temperature Data

2014 College of Agriculture Greenhouse Temperature Data

For previous years temperature, please contact Jackie Bantle or Eldon Siemans directly.