Graced with sunny skies and windy conditions, the day-long outdoor event brought together livestock producers, researchers and students alike to learn more about current livestock- and forage-focused research being conducted at the LFCE.
Located southeast of Saskatoon, Sask., the LCFE is a complex of field and science laboratories covering nearly every facet of livestock and forage production. It provides resources including beef cattle, bison, annual and perennial grazing land, a 1,500-head feedlot, and laboratories that are used by researchers focused on topics in agriculture, environmental sustainability, economics and animal health.
Many of the centre's applied research projects involve faculty and graduate students from its two USask college partners — the College of Agriculture and Bioresources and the Western College of Veterinary Medicine (WCVM) — along with collaborators from provincial and federal governments and industry partners.
Dr. Scott Wright (PhD), director of the LFCE, emphasized the importance of the centre's annual field day to producers, researchers and the agriculture industry.
"Field days are a traditional way of having people's boots on the ground to see where the opportunities lie in what's happening [at the LFCE]," Wright said.
Findings from research studies in areas such as cattle genomics and practical mineral supplementation can have a significant influence how producers operate their farms.
"Conversations that happen at the Summer Field Day are critical for researchers assessing upcoming needs, emerging technologies and ideas," said Wright. "It gives industry producers and organizations the opportunity to ensure that the centre's research is relevant, applicable to other industries and provides a sense of return on investment."
During the event's opening, attendees gathered to hear Saskatchewan Agriculture Minister David Marit announce an investment of $6.6 million in research funding over five years for the LFCE on behalf of the Governments of Canada and Saskatchewan.
The new funding is available through the Sustainable Canadian Agricultural Partnership, a five-year, $3.5-billion investment by Canada's federal, provincial and territorial governments that supports Canada's agri-food and agri-products sectors.
"This funding for the LFCE directly supports the kind of innovative work that helps our livestock sector not only stay globally competitive but remain a leader when it comes to best practices," Marit said.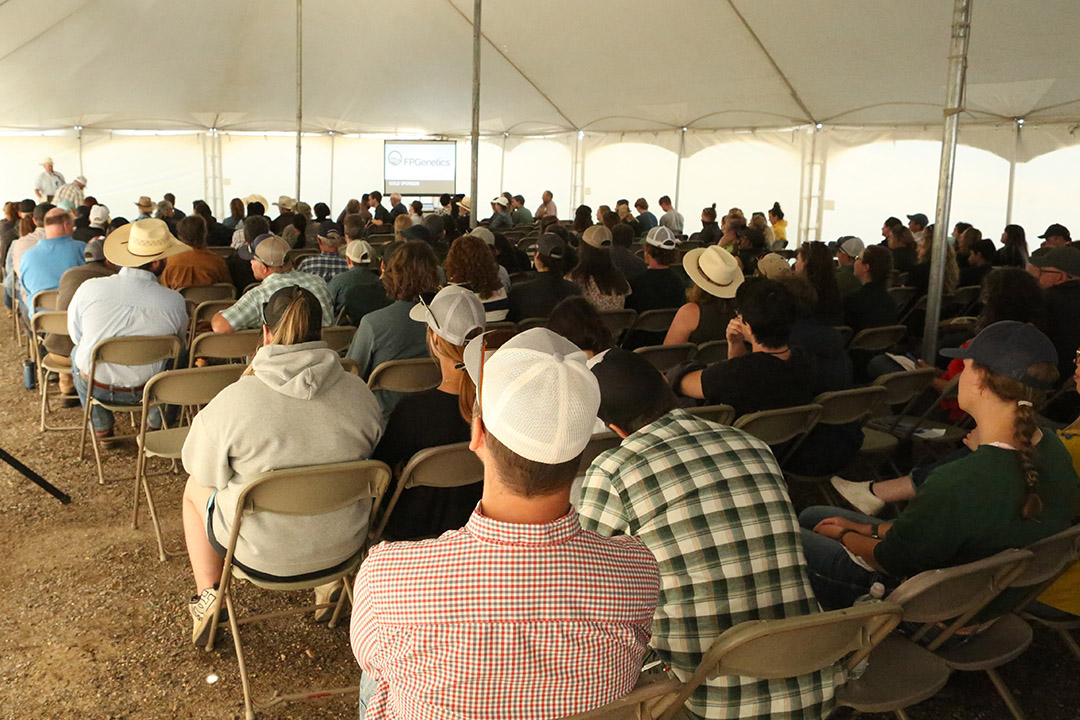 The investment will support the growth of the centre's research, education and outreach initiatives, added Wright.
Elder Roland Duquette of the USask Golden Oakes Red Bear Student Centre also spoke at the event to emphasize the importance of livestock — particularly bison — to Indigenous cultures. Duquette stressed the significance of healthy human-animal relationships in livestock production.
The annual field day's presenting sponsor is Canadian Western Agribition (CWA), another important agriculture educational forum in Western Canada. Additional event sponsors included Ducks Unlimited Canada, Merck Animal Health, Neogen Canada, FP Genetics, Highline Manufacturing, Northstar Seed, Brett Young Seeds Ltd., Saskatchewan Cattlemen's Association, CJWW, The Western Producer, Saskatchewan Stock Growers Association and the Saskatchewan Angus Association. The Termuende Trust Fund sponsored the field day's lunch. 
As part of the day's activities, over a dozen USask graduate students presented their research posters to visitors. Poster topics included antimicrobial resistance in feedlot water bowls and its correlation to resistance in cattle pathogens, clinical signs of bovine respiratory disease and the impact of stocking density in feedlot pens on beef cattle behaviour.
Dr. Diego Moya (DVM, PhD), is an assistant professor of beef cattle behaviour and welfare in the WCVM's Department of Large Animal Clinical Sciences. Three of his graduate students promoted their research projects during this year's Summer Field Day.
Moya said that his team's research significantly benefits producers as well as consumers.
"There are always benefits on improving not only the profitability of [the livestock industry] but also the health and welfare of these animals," Moya said.
The field day also benefits students, introducing them to potential career options in the agriculture industry.
"It's a good opportunity for students to get that experience and to get that exposure to the industry."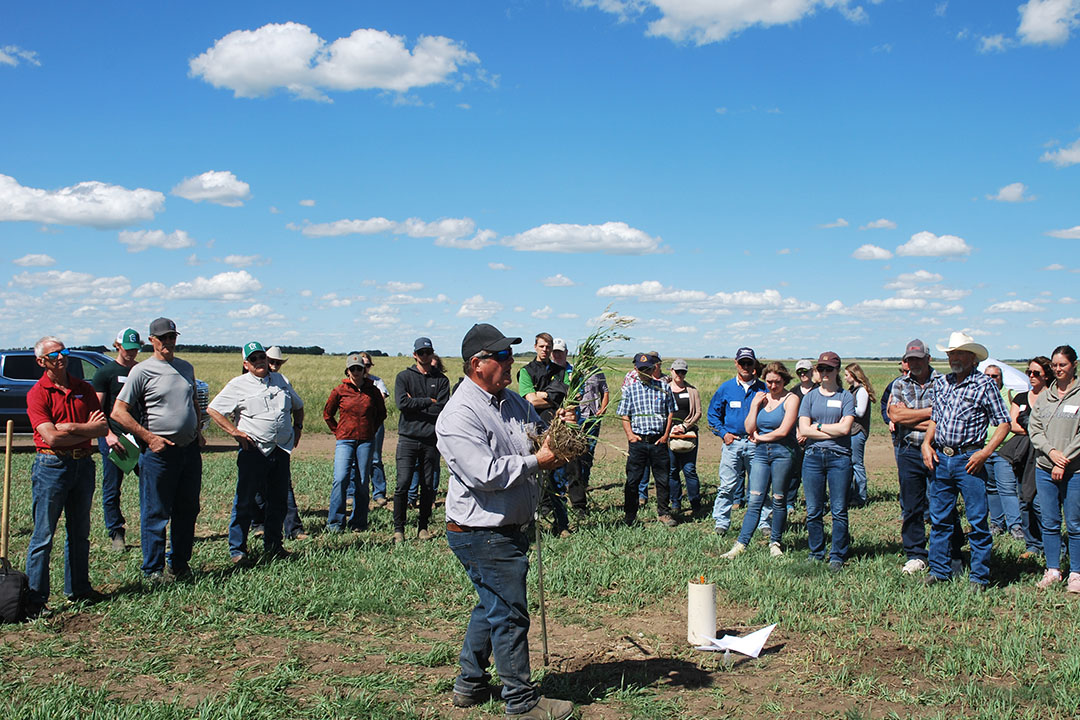 Throughout the event, visitors took part in the field day's "Pens, Plots and Paddocks" tours. Field day attendees hopped on buses to visit two of the LFCE'S three research and teaching units — the Beef Cattle Research and Teaching Unit (BCRTU) and the Forage Cow-Calf Research and Teaching Unit (FCCRTU) — as well as forage and feed crop test sites. 
During tour stops, graduate students gave brief talks about their research work in areas ranging from feedlot cattle diets to forage breeding.
Participants also had the chance to explore the BCRTU's metabolism barn and to learn more about its cattle handling equipment. As well, attendees could take part in a brief demonstration of livestock genomics based on research being conducted at USask.
The centre's next field day will take place in June 2024. Visit the LFCE website to learn more about the centre and its activities.
Cat Zens of North Battleford, Sask., is a fourth-year student in the University of Regina's School of Journalism. She is working as a research communications intern at the Western College of Veterinary Medicine (WCVM) for summer 2023.
Together we will create inspired places for people to address the challenges of the future. We invite you to join by supporting visionary spaces at USask.