Kylie Grimes is a student in the USask College of Agriculture and Bioresources. She recently completed the first year of her Bachelor of Science in Agriculture degree program, with a major in Animal Science. She is spending summer 2021 working as a research assistant at the Livestock Forage and Excellence Centre (LFCE) based in Clavet, SK, and is supervised by Dr. Bart Lardner (PhD), Ministry of Agriculture Strategic Research Program Chair in Cow-Calf and Forage Systems and Professor in the College of Agriculture and Bioresources.
Jumping into university life
 When Kylie Grimes arrived at the University of Saskatchewan (USask) College of Agriculture and Bioresources as a first-year student, she was unsure of where she would fit into university culture and her academic program.
"Throughout high school I always excelled in the sciences and loved the laboratory work which made me interested in pursuing an animal science degree," Kylie said.
Besides navigating the typical challenges of the shift from high school to an undergraduate student, Kylie entered her academic journey in the midst of remote learning and limited in-person learning.
"Being a first-year university student in the middle of a pandemic made it feel a little less like university and a lot harder to learn and enjoy the material," said Kylie.
Choosing an area of study is often the first battle in a student's post-secondary journey, but Grimes took the challenge in stride.
"I began reaching out to other students, career counsellors, and professors, which included Bart Lardner, for any guidance that they could give me," she explained. "In the end, Bart offered me an interview and I landed the position as his summer student!"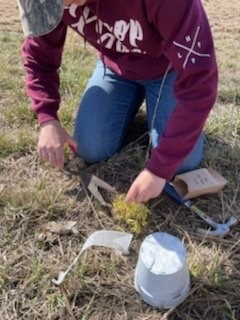 Into the field
Kylie's passion for working with animals translated perfectly into the opportunity to pursue field work with her supervisor, Dr. Bart Lardner (PhD).
"I wanted to work with animals this summer to gain more hands-on experience with livestock," said Kylie.
"Having the opportunity to be a part of this research team and doing so much hands-on work has allowed me to gain so much knowledge in a short period of time and I can definitely say I am in the right career path!"
Kylie's research position is taking place at the Livestock Forage and Excellence Centre (LFCE) located in Clavet, SK. Activities have included observing cattle behaviour, taking water and feed samples, and assisting with livestock procedures such as conducting ultrasounds, weighing cattle and administering injections.
She has also had the opportunity to assist graduate students with their research work. Such work becomes an informal mentorship model, where an undergraduate student learns from, and contributes to, a graduate student's area of study. Various projects and graduate students she has worked with include:
Cassidy Sim – Mob graze project which focuses on forage performance and forage preference
Megan Wasden - effects of annual and perennial forage systems on plant, soil, and water parameters, grazing animal performance, enteric emissions, and system economics
Corissa Wilcox - project which investigates cow/calf performance and profitability using an injectable trace multi-mineral source in a free choice mineral system
Biochar - a summer grazing study comparing methane emissions released from lactating cows fed a biochar supplement or no supplement
Kylie's list showcases how first-year students can find themselves working on diverse projects when they  engage in undergraduate research activities.
Tackling a challenging research environment after only one year of university study may seem daunting, but is completely possible if entered with an open mind and willingness to learn.
Kylie highly recommends taking on the easiest and hardest activity first: communicating with those in research, looking for opportunity.
"I would tell other undergraduate students to contact other students, businesses, producers, professors, and the university's career counsellors," said Kylie.
"The more people you talk to, the more opportunities that will become apparent and even the smallest of opportunities can lead to big possibilities."
While searching for research opportunities or during field work, you may encounter research areas you didn't know existed – that may end up being the perfect fit.
"Keeping an open mindset also grants for many more opportunities even in research areas that you are not familiar with that can lead to something great."  
Students have heard the same sentiment expressed many times; but talking, asking questions and getting out there is the best approach to finding opportunities, whether they are career or research-related.
It is also okay to be new to the research world. As Kylie has demonstrated, even one year of post-secondary education can be enough to launch into the research stratosphere.
"I have learned that being new to something and not knowing all the answers is okay and normal in the agriculture industry," said Kylie.
"Overall, the best thing that I have done was to reach outside of my comfort zone by moving away from home and learning more about what the province of Saskatchewan has to offer in the agricultural community!"