Olalaye and Procyshen now work together at the U of S on researching "microdosing" usage of fertilizer in West African farming practices. Project supervisor Derek Peak explained that microdosing is the "in-soil application of inorganic fertilizer, either NPK [nitrogen-phosphorus-potassium] or urea, depending upon the crop, after seedling emergence. It can double yields compared to controls, and often provides similar yields to broadcasting twice as much fertilizer." The project began in 2012, growing vegetables in Nigeria and microdosing in Benin, with an end game of growing more and better food while bolstering food security in West Africa.
For Olalaye, the path to earning his PhD in soil science in Canada was relatively straightforward: born and raised in Nigeria, he enjoyed the hands-on aspects of his father's work as an agricultural economist. "We [four kids and cousins who visited for months at a time] followed him to the farm, and in the compound we planted beans and corn," he said. "At secondary school, every student had a farm plot – we planted cassava, maize, and used old tools and our hands, not mechanized machines, but hand hoes and rakes. It was fun for me, and the best part was harvest."
After time at Nigeria's Abia State Ministry of Agriculture, Olalaye went to the University of Eastern Finland in his early twenties, where he earned a master's degree in environmental sciences. He came to Canada to further his research in soil science in PhD studies, drawn by the prairie's fame as an agricultural region and the chance to use the Canadian Light Source (the synchrotron).
Procyshen took a more circuitous path to his current work on his MSc, where he is exploring how well the microdosing techniques are being implemented by actual African farmers as opposed to researchers, utilizing Olalaye's soil samples and mechanistic research. He began a Bachelor of Commerce at the University of New Brunswick in 2011, ultimately completing it at the U of S. After an having to stop playing hockey at UNB due to injury, Procyshen decided to go to Zambia after his second year to farm.
"Farming there was conducted on small plot farms of about an acre, where the farmer would hoe, dig a hole and put in seed, cover it and dig another hole," he said.  "I was interested in why they used such an archaic way of farming and how to improve it to feed those who are struggling to eat. I felt that studying agriculture would be the best route to help. I didn't see the starvation you see in commercials, but I encountered hungry and malnourished people."
Procyshen came back to Canada and relocated to Saskatchewan, where he finished his business degree and moved on to agronomy. On seeing a potential link between his commerce degree and seeds in the African soil, he asked, "What is happening in the soil on a fertility basis and what is happening to the farmers' income?"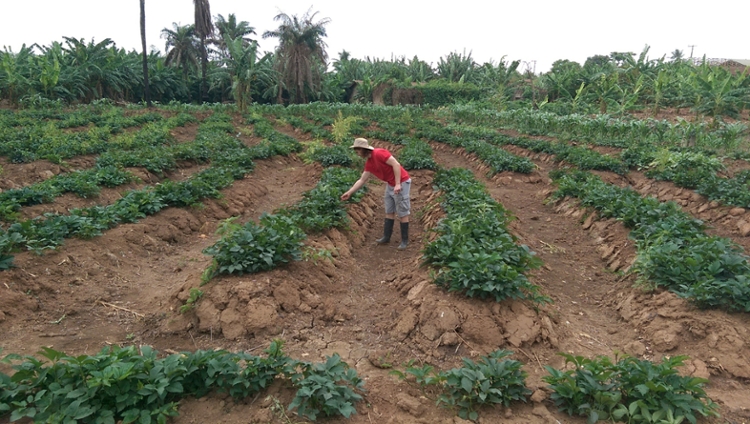 On a visit to Africa, relying on students from the Nigerian university campus, Procyshen collected samples from farmers' fields and interviewed them for income and expense yields. But there were, of course, difficulties, the ultimate difference between lab tests and real on-the-ground tests. For starters, many African farmers don't keep accurate records, and issues arose in implementing practices set forth in the project due to unforeseen circumstances.
"In one place," he recounted, "they couldn't put down poultry dung or cattle manure because it wasn't decomposed enough and would have burned the plants. Our practice calls for adding organic manure, but in some cases we had to go along with planting without that organic addition. But beyond those difficulties, I saw farmers [in Benin] who are successfully implementing microdosing, and those who were part of the vegetable project [in Nigeria] saw the results of higher yields."
For his part, Olalaye is utilizing the synchrotron to determine the exact chemical forms of nutrients in African soil samples, using a technique that Peak described as being similar to chemical fingerprinting. The next step is to use advanced molecular techniques to determine what microbes are present, and how they are actively cycling nutrients in the soil.
The sum total of analyzing biological, chemical and statistical data along with the increases in soil productivity will offer a clear picture of the African soil system that grows indigenous vegetables and feeds millions while also providing useful grist for the research mills of Olalaye's PhD and Procyshen's master's degree. No small feat, and perfectly aligned with their big picture interest in allaying hunger.