Saskatchewan Agricultural Graduates' Association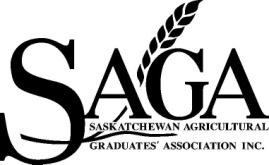 The Saskatchewan Agricultural Graduates' Association (SAGA) is an organization that supports graduates of the college and host of an annual reunion. 
All new graduates of the college automatically receive complimentary membership for one year.  
Events
Th University of Saskatchewan Alumni Association is celebrating its centennial. Several events have been planned throughout the year to celebrate.
Thursday November 24th 4 - 6 PM @ The Swamp, Agribition Grounds
January 6 - College of Agriculture and Bioresources Social 
4 - 8 PM Agriculture Building, Student Lounge (main floor). No registration necessary.
 January 7 - 82nd Annual SAGA Reunion Banquet @ TCU Place Saskatoon, SK. Registration open November 1 at saskaggrads.com
Class composites
The college is proud to display composites from 1939 of all degree, diploma and certificate graduates.
Class Giving
Typically organized by class reunion chairs, class gifts can be established to honour your graduating year and support a specific area of interest to your classmates. Previously supported initiaves have included: the AgBio Discovery Program, student bursaries, scholarships and infrastructure. 
To find out if your graduating class has an award or, if you would like to discuss other options, please contact our Development Office.  
(306) 966-8893
Volunteer
Interested in volunteering at a college or university alumni event? Let us know!
306-966-4063